At the end of 2013 Reading band The fleas began work on an Ep project with producers Nigel Firth and Umair Chaudhry.
Have a listen to their new single whilst you read on.
Umair Chaudhry
"I enjoyed working with The Fleas, despite the odd stressful day in the studio being engulfed by the enormity of the project… between Nigel, the band and me we had created a monster but the results were well worth it. These are essentially pop songs with a raw edge, with elements of Nigel's electronica thrown in for good measure. To describe the recording process, I laid down the raw tracks with the band playing mostly live, apart from vocals and percussive elements. I tend to track as many instruments together as I can, to retain a live feel and chemistry between the members. Next came the replacing of guitar parts, percussion overdubs etc. After that Nigel began writing the synth elements with the band and incorporating them into the mixes. Finally we recorded the vocals including the backing harmonies from the band, and then onto mixing and mastering." – Umair
The Fleas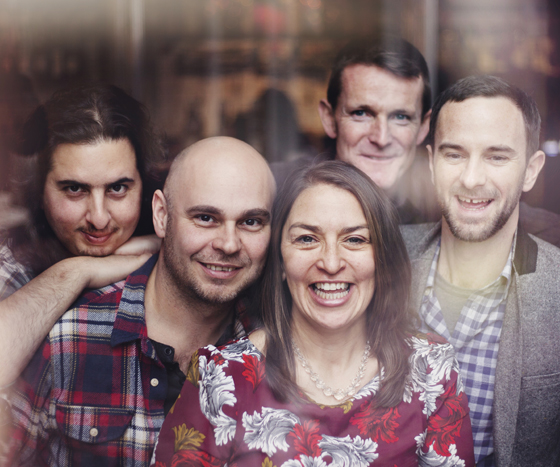 Describe yourself
The Fleas mash together vintage influences with fresh grooves, landing somewhere between The Kinks and the Pixies. A Brit indie base for a hundred different toppings, from kitchen sink dramas to love songs at the end of the world, it's a heady brew.
The band is a Reading-based five-piece – four boys and one girl. Since 2008, the band has played every toilet and ashtray in London and lots of minor festivals all over the country. The Fleas has also featured twice on BBC Introducing through Linda Serck and has also received airplay and rapturous applause from Dermot O'Leary on Radio 2.
www.soundcloud.com/fleas , http://www.thefleas.biz/ , www.facebook.com/thefleasplease
How did you form?
Piers Sudell started the band in 2008 by advertising online for members. This may have been a mistake, as a rogue's gallery of fruitcakes and wastrels darkened the band's door.
It's a hellish story of about 30 different musicians passing through the band, with at least half of them exhibiting symptoms of madness before sudden and emotional exits, largely those on bass guitar.
There was the bass player that heard voices, the bass player that refused to take his medication and disappeared, the bass player that never paid for anything, the cute bass player who couldn't actually play bass at all, and the bass player who just stopped showing up one day.
All the churn has held the band back for ages, but now The Fleas boasts and enviable lineup and a new set with a rockier edge than in previous incarnations.
Finally, it's a good time to be a flea.
What are you hoping to achieve with these recordings?
We want exposure and we want to find other bands like us so we can start a scene in the Reading area.
What are your references – Heroes or influences?
Pixies, Beatles, Kinks, The Muppet Show, The Smiths.
Do you have a recording philosphy? What's your approach?
Dance music is all groove and no song. Rock and Indie is often all song and not much groove. We're trying to bring the two together, so everything is a case of balance between these two aims. So for instance, our new song Born to Run is a classic new wave song, but with a dubstep-influenced chorus.
Are you looking to release this? How ?
We'll do digital releases, treating each song on the EP as a single in its own right, before releasing all four songs as an EP. Our thinking is that this is the best way to give each song the attention it deserves.
 We'll probably also print 500 CDs for sale at gigs.
How will you promote it?
We're going to target music bloggers and try really hard to get the songs synched with brands. Having a song that's all about running makes us hopeful that we can find a relevant brand (trainers, sports montages, London Marathon etc) that can use it.
How do you write the songs?
Currently, Piers writes the songs and demos them up for the band to bring to life in the studio. This is because we are so busy that it's the most time-efficient way to develop new material. If we could fit in more practice time, we'd be more leisurely about how we worked.
However, we are starting to email each other riffs and ideas, build these up and then email them on again, so the songs can grow more organically.
Anything else you want to say?
We're really keen to find quality bands in the Reading area that would like to start a scene with us. If anyone out there likes our stuff and wants to get involved, we'd really like them to get in touch.
The Fleas
Find out more about our music production services?  Or Contact Us to get started