We're lucky to have Producer Bobby Bloomfield working from our studio and so we pinned him down for an exclusive chat, read on for the details
How did you get into recording?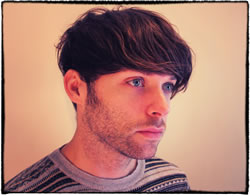 I've always been interested in recording and manipulating sound. When I was a kid I had this irritating habit of cutting up cassette tapes and sellotaping them back together into bizarre audio montages. I guess it was an eight year old version of what Cassette Boy does so brilliantly today. I once discovered that my dad's Betamax video recorder had a "dub" function so I completely re-dubbed the audio to Indiana Jones and made the whole film about a mystic quest for chicken bhuna. I guess I kept going from there onto four track recorders, then 16 tracks and then on to ProTools and Cubase and from recording my own projects on to recording other people's.
How do you prefer to work in the studio?
I like to work organically depending on the act. If they have a specific sound in mind, say a heavy rock band, I will track the band focusing on the drums and then lay guitars and vocals on the top with drum edits and multi-layered guitar sounds. If it is a more free and experimental act I will go with the flow and let creativity dictate what should happen and in what order. I'm working on a sea-faring folk act at the moment and we took the decision early on to record the vocals and acoustic guitar first and then work backwards with layers of haunting vocals, percussion, strings and accordion underneath. Sometimes with the more arty rough and ready stuff being just a little bit out of time and pleasantly out of tune is exactly where the magic comes from. I generally track with an act then take the songs away and work on them for a while and then work with the band again until everyone is happy with the mix.
Is there a particular style of music you prefer to record?
From a personal point of view I find it more fun to experiment in the studio rather than stay within the rules. I've put guitar amps in the boot of a car before and recorded vocals through an amp and then put through a vacuum cleaner tube with a plastic cup sitting on it to get that raspy plastic cup on the end of a pipe sound I'd always wanted! I guess I am best known for the harder experimental dance stuff I've done under the guise of Does It Offend You, Yeah? but I equally love shoegaze or rock. Sometimes it's the stuff I find difficult to work on that turns out the best.
Is it just bands?
I think I'm particularly good at rock and indie bands as it's where I feel comfortable but I know my way around solo acts and dance production. I'd love to do some funk or hip hop soon.
Can you play us a few of your recent projects and talk us through them?
This is a song by a band called The Adelines who are from Swansea. I liked them so much I started managing them and within days this song was on Radio 1, 6 Music, BBC Wales and BBC Berkshire. I can't wait to drop their big single!
This is a song by Kamikaze Test Pilots. They are from Reading and two of the band are from Zimbabwe so some of their songs feature African percussion and Afrikaans vocals. This song however is just a simple balls-to-the-wall crazy rock song.
This is a tune by Does It Offend You, Yeah? with that plastic cup vacuum cleaner sound I mentioned before. It is probably our weirdest and most experimental song.
This is a remix I did for 50 Cent. His label needed the tune turned around in two days and this is what I came up with. I wish I had a bit longer to make the end more interesting but I think it still sounds pretty cool.
For  copyright reasons the previous two tracks are offered in clip form in the SoundCloud below. Bobby is also depicted smoking, which is obviously not cool and can not be officially endorsed by Silver Street Studios. Maybe we can get Bobby to talk about these other tracks at a later date. 🙂
The Soundcloud is Unavailable
Is there anything else you would like to add?
I love working with acts who are willing to experiment and let things flow in the studio. Mistakes can be what makes an act original. People are still copying Jimmy Hendrix's mistakes 40 years on.
Thanks for reading our Bobby Bloomfield interview. If you're interested in working with Bobby you can see his producer profile