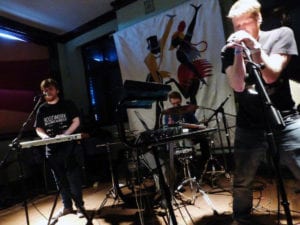 The Performing Rights Society (PRS) collects and distributes worldwide royalties on behalf of UK based songwriters.  It's not just there to pay the professionals, it's a greatly underused, but powerful resource for local and amateur musicians. There are plenty of benefits to investing in a PRS account early in your songwriting career.
Earn money from your unpaid gigs
As songwriters and performers we're all really used to playing local gigs for the joy of it.  When possible most promoters will give the band a bit of cash, but there is a lot of free playing going on. Even when you play a gig for free PRS can help you claim some money for performing the songs you have written.
Monitise YouTube videos

YouTube rewards video creators with a lot of plays with advert revenue, but they must pay for any video that features your song. Whether you own it or someone else has used it. PRS can claim some money for that video, no matter how many streams it has.
Play covers, help out the songwriter
Many bands play a cover or two every gig. It's a great way to get the crowd on side with a song they already know.  If you are PRS registered you can register that performance of the song and the original songwriter will get a bit more in their paycheques! Even if you've covered the biggest earning superstar in the world, it's the honourable thing to do.
Protect your copyright
To be honest, nothing is a 100% guarantee of your copyright, but having your song recorded and registered with PRS is about as good as you can get.
Get money for your radio plays
It doesn't matter which station plays your song, or how many people listen to it, you deserve payment for each and every play.  Those stations are attracting and entertaining listeners with your music.  This is especially important if you've submitted your song to the BBC Introducing program where your song could go national. The BBC Intro uploader specifically asks for a PRS ID number when you upload.
What next?
We've written a free guide to PRS for songwriters. It will help you set up your PRS account and guide you through the basic processes of registering your songs and claiming useage.  Sign up below to receive your free PDF booklet on PRS